Damaged Lashes and Brows
Damage to your lashes and brows can be devastating! Bad eyelash extensions, over plucking brows, or too dark permanent makeup can really hurt your self-esteem. At Occhi Lash & Brow Studio, we can take steps to help you correct damaged lashes and brows.
Eyelashes
Time and again, clients come to Occhi Lash & Brow Studio in desperate need of restoring their lashes. We've seen damage caused by poor application of eyelash extensions and improper use of beauty tools. With the benefit of our experience and extensive knowledge, we are able to gently remove damaging eyelash extensions. We then advise clients on how to care for their natural lashes and if possible, we apply a new set of eyelash extensions that will not harm the natural lashes.
Eyebrows
Over tweezing or plucking can wreak havoc on your brows. There are medical conditions and medications that can affect your eyebrows. Poorly applied permanent makeup can leave you with unnatural looking brows. We've got the knowledge and solutions to help your get your brows back in shape. We offer growth serums and supplements that stimulate hair growth. If hair growth isn't possible, we offer services that can camouflage sparse or thin areas. For bad or old permanent makeup, we offer laser removal and color correction services.
eyelash curler damage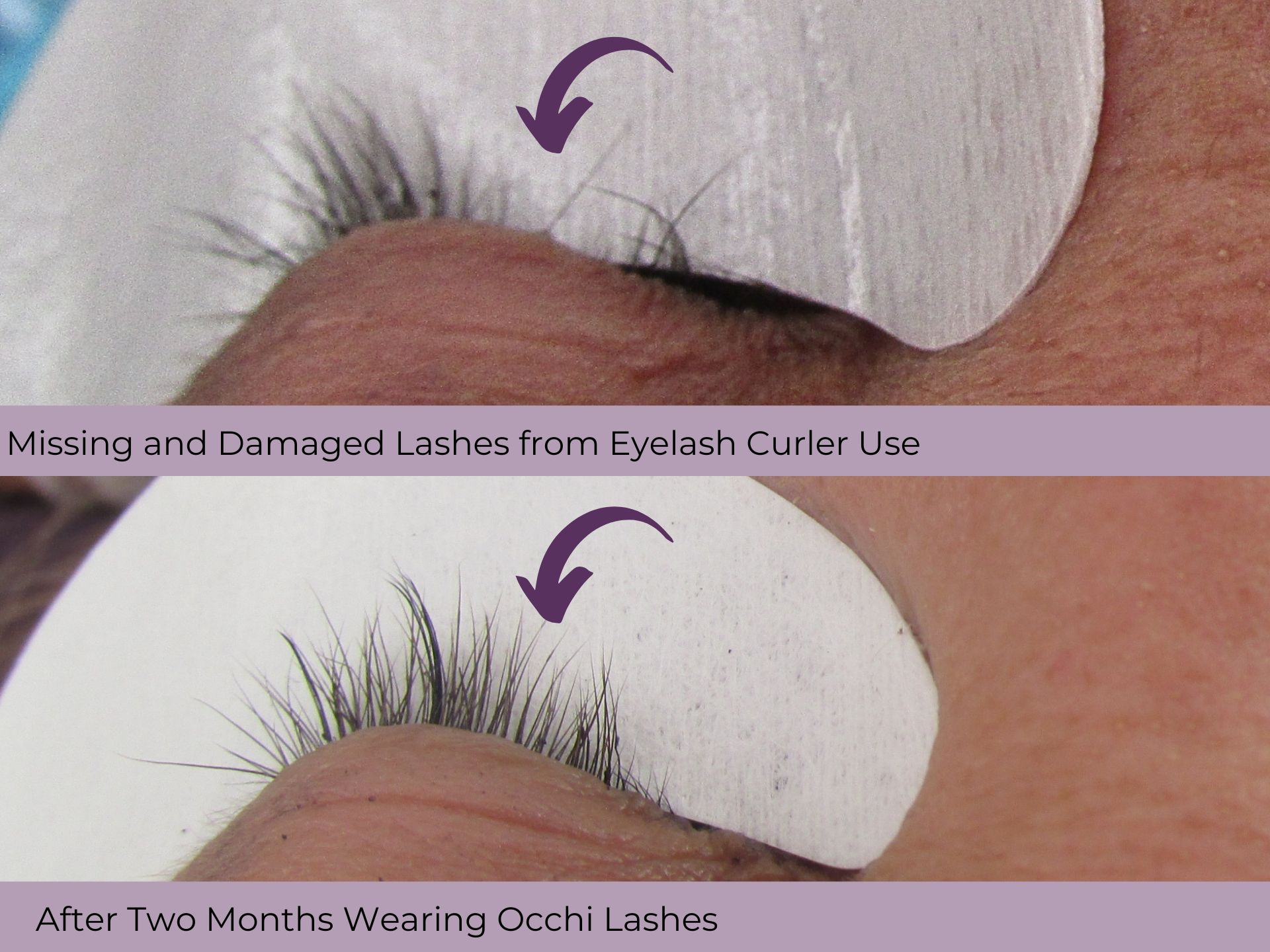 This picture demonstrates how eyelash extensions can keep your lashes healthy. This client came to Occhi after having her lashes destroyed by an eyelash curler.
She was put on our Growth Support Vitamin Supplement and had extensions attached. After 2 months of care and extensions, her lashes were healthy and the extensions were holding very well!
Solutions for Damaged Lashes & Brows
Find out what might work for you during a free consultation!
Allergies
If you've had an allergic reaction to eyelash extensions in the past, we have several options to explore. A patch test will give us a baseline of your reaction.
Chemotherapy
If you have recently undergone chemo treatment, we offer a special service. Our technicians will show you how to apply strip lashes and powder in your brows so you can feel good while you recover.
Physical and Mental
We are proud to work with women who have trichotillomania and other medical issues that inhibit lash & brow growth. We're happy to work with you to find a solution.
Not sure what you need? Send us a message!